Kaomoji.moe
2
Instant access to thousands of fun and unique Japanese text emoticons!

Add to Slack
How it works
Kaomoji.moe is a Slack App that you interact with by using slash commands. This list details all supported commands and features.
/kaomoji
Using this command will attempt to match the text you send it to an appropriate kaomoji category and send a random one for you.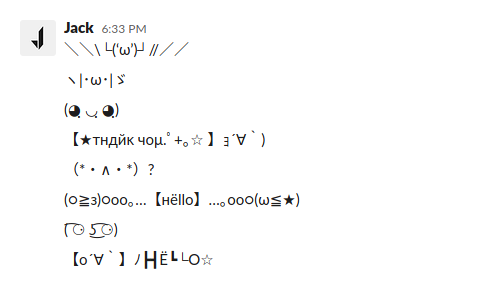 /kaomojis
Like the /kaomoji command, this one lets you preview a selection of kaomoji before sending them.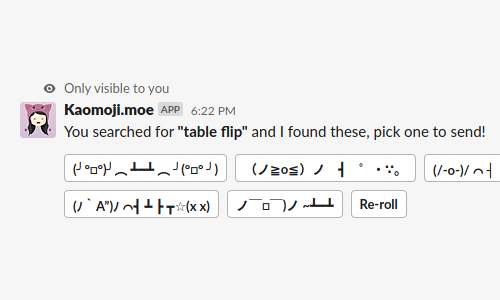 Feedback
Sometimes when using /kaomoji I'll ask you to provide feedback about what I found. Responses here are automatically fed back into the Kaomoji.moe platform and used to improve Kaomoji for everyone else!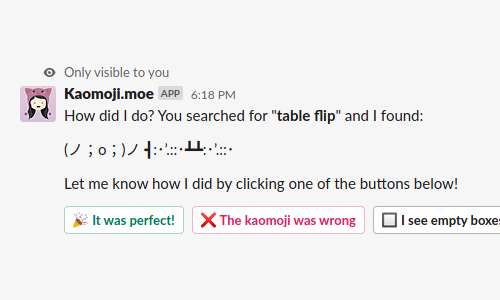 Modes
Kaomoji.moe comes with two modes, Snail and Unicorn. You're free to switch between these whenever you like.
Snail
"Posted with" branding
/kaomojis preview up to 3
Might ask for coffee
Unicorn
No branding
/kaomojis preview up to 5
/kaomojis re-roll
Install
Make sure that everyone who wants to use the Slack App signs in here at least once!

Add to Slack
Why have these modes if it's free?
These modes exist so I can let you know that I accept donations from people that feel strongly enough to support what I'm building. A reminder is shown in the Slack App when using Snail mode.
If you are someone that truly finds a lot of value and enjoyment using Kaomoji.moe and you'd like to support my efforts in some way then I'd be extremely grateful if you bought me a coffee (oat milk mocha please!).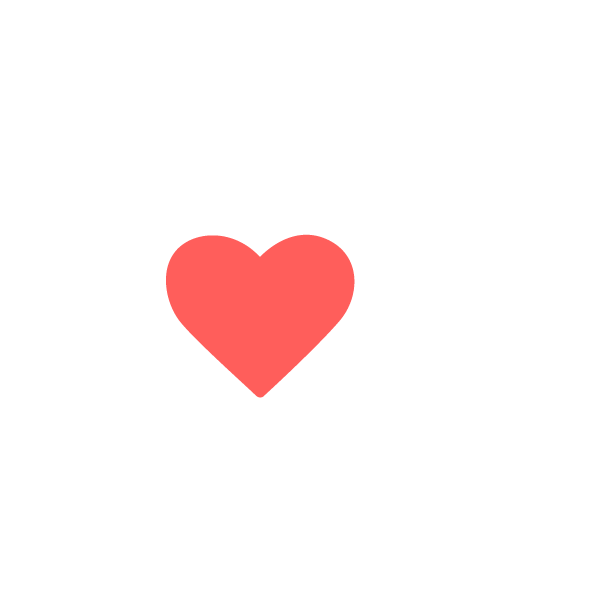 Support me on Ko-fi
– Jack